Note: The following story contains content about sexual, physical, and psychological abuse against children.
---
After five years of waiting, fans waited eagerly to see Simone Biles, the gymnastics GOAT, defend her Olympic title. As the team competition began, however, it became immediately clear that something was amiss.
Biles botched her vault, performing a much easier skill than planned. Clearly shaken, Biles left the competition area, leaving the world stunned. Speculation began to swirl: Was she injured? Stressed? Had the pressure all been too much?
The night before, she posted a revealing message on her Instagram: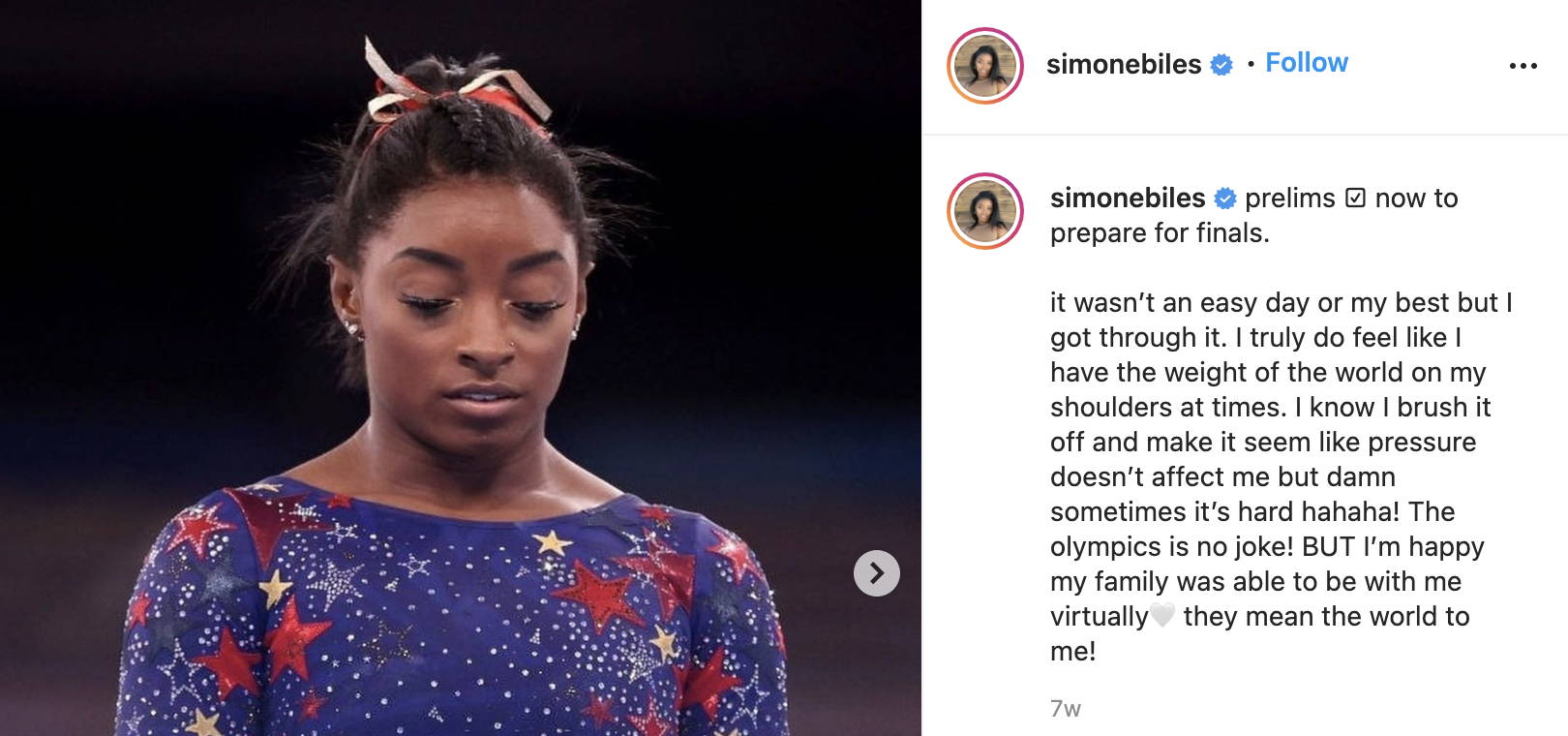 Within minutes, Biles returned to the competition floor and told her teammates she was withdrawing from the competition. Some called her a hero for "shining a light on the conversation about mental health." Others criticized her for "quitting." The Games moved on without her (though she ultimately returned on the last day of competition and won a medal in the Balance Beam Event Final).
There were news stories about mental health and athletics. Commentary from elite athletes like 28-time Olympic medalist swimmer Michael Phelps, who admits to once considering suicide after the 2012 Games. Current and former athletes praised Biles for her courage to put her mental and physical health above her desire to win.
But we didn't hear about the years-long trauma behind the scenes. Commentators chalked up Biles' exit to "mental issues" and "the twisties" (which are legitimate, but certainly only a surface symptom of a much deeper mental state). Announcers casually glossed over the controversy that has plagued USA Gymnastics and its athletes for years.
USA Gymnastics, Sexual Abuse, and Criminal Cover-Ups
For gymnasts, the Olympics is the pinnacle. Girls start training, sometimes before they even enter grade school, with dreams of gold medals draped around their necks. It's not uncommon for higher-level gymnasts to train 30 or 40 hours every week, all while trying to keep up with school. Only a select few will reach the elite level, the pool from which Olympians are chosen.
By the time these athletes – many of whom aren't even out of high school – reach Olympic potential, they've essentially given up their childhoods. They've punished their bodies, nursing broken bones, sore muscles, and ripped hands. They spend hours performing skills over and over again, for hours on end, while most other girls their age are hanging out with friends and enjoying life as a kid.
In essence, these girls give up absolutely everything with one goal: to make that Olympic dream a reality.
The Road to the Olympic Dream: USA Gymnastics and the National Team Coaches


The road to the Olympics goes through Texas. At least, that was the case until 2018.
It all starts with two Romanian gymnastics coaches who defected from Texas in the '80s: Bela and Marta Karolyi. They had successfully led their Romanian protégé, Nadia Comaneci (then just 14), to a gold medal in the 1976 Games. The Karolyis' training methods became legendary, though some questioned their strict approach.
In America, the Karolyis became US Gymnastics royalty. They purchased a secluded ranch in the woods north of Houston, where they would take elite gymnasts and prepare them for the Olympics. Eventually, the Karolyis partnered with USA Gymnastics, the official governing body of the US Olympic Gymnastics Team, turning the "Karolyi Ranch" into an intense training camp for Olympic hopefuls.
"The Ranch" became a training hub ahead of the 2000 Olympics when Bela Kayoli was named the head of the US National Team (Marta later assumed the position in 2001). Elite gymnasts – most of them still minors – would come to The Ranch, often monthly, hoping to outshine other athletes and earn a place on the Olympic Team.
For nearly two decades, girls and young women endured a punishing routine of workouts, verbal abuse, physical pain, and extreme pressure at The Ranch. Elite gymnasts have since come forward with allegations against the Karolyis, including being screamed at by the coaching staff, denied food, and forced to train with serious injuries.
Of course, the most sinister abuse allegations were those of the doctor hired by USA Gymnastics and the Karolyis to treat their gymnasts: Larry Nassar.
A Sexual Abuse Scandal Spanning Decades
The story made national news: USA Gymnastics Olympic Team doctor Larry Nassar arrested and accused of sexual abuse against underage athletes. Soon, a few accusers turned into hundreds, all alleging that Nassar sexually assaulted them under the guise of "medical treatment."
In 2017, Nassar pleaded guilty to the charges and was sentenced to 60 years in prison. Later, he would plead guilty to additional counts of sexual assault on a minor, increasing his sentence by up to 175 years. As part of the plea deal against Nassar, every accuser was allowed to give a victim impact statement before his sentencing.
The world witnessed the strength and courage of these survivors during victim impact statements in 2018. For nine days, one survivor after another approached the microphone, some with loved ones by their side for support. They included famous faces like Olympic Gymnasts Aly Raisman and Jordyn Weber, among more than two hundred others, with stories of abuse that span nearly three decades.
In all, more than 500 women would come forward to report abuse, some of whom were still in grade school when they were first assaulted.
The survivors' stories are disturbing and heartbreaking. But even more disturbing was the accusation that victims had reported abuses for some 20 years. Victims filed complaints with USA Gymnastics, Michigan State University (where Nassar worked as a professor and team doctor), and a local gymnastics training facility in Lansing, MI called Twistars, owned by then-head coach John Geddert.
In 1998, an anonymous underage victim and gymnast at Twistars told her mother about an assault by Nassar. The parent immediately contacted Geddert, who allegedly failed to report the abuse to authorities. This complaint, filed twenty years before Nassar's conviction, is the first known accusation against him. However, gym owner Geddert (who was accused of verbal and psychological abuse by many gymnasts) failed to act. Geddert was eventually charged in early 2021 with human trafficking and criminal sexual conduct. He took his own life shortly after his arrest.
USA Gymnastics: Brushing it Off and Covering it Up
Even with justice served for Nassar and Geddert, the ordeal is far from over. Questions remain about when USA Gymnastics and the US Olympic Committee first knew about the allegations against Nassar and why these allegations weren't reported.
To understand the deep cover-up, it's essential to understand The Machine that is USA Gymnastics. Mary Lou Retton's win in the 1984 Olympics was just the beginning. A strong 1992 Olympic Team and the incredible Team Gold won by the 1996 Magnificent Seven made USA Gymnastics a financial powerhouse. Those at the upper echelon of management within the organization were raking in profits, all on the backs of their overworked (and many underage) athletes.
USA Gymnastics became a brand rather than a governing body. Suddenly, there were television interviews, endorsement deals, and lucrative business opportunities for the powerhouse leaders in the USA Gymnastics community.
Soon, the Karolyis and the USA Gymnastics governing bodies became the faces of that machine. Winning was paramount: silver medals meant less income and less notoriety. The athletes represented dollar signs rather than young people who should be nurtured. The Karolyi Ranch signed a lease agreement with USAG, and in 2004, The Ranch began hosting a week-long camp that became a central event in the Olympic Team qualification process.
In the meantime, the gymnasts were willing to do whatever it took to reach the pinnacle of gymnastics success. If that meant attending monthly Karolyi camps, training on stress fractures, and going to bed hungry, then so be it. Of course, it also meant that athletes would not complain – and wouldn't speak up when they felt something was wrong. They endured abuse, some for years, at the hands of the official USA Gymnastics doctor because they knew that reporting it could mean the end of their careers. Some didn't even know that the "treatments" Nassar used were abuse because they had been conditioned from a young age to trust their coaches implicitly. They did not question their coaches or their methods. So, when a doctor employed by the Karolyis and USA Gymnastics did something inappropriate, the gymnasts doubted their intuitions and assumed everything was as it should be. They trusted that the adults surrounding them would protect them.
For years, athletes suffered in silence, beholden to the USA Gymnastics behemoth that was willing to sacrifice their innocence for another gold medal.
A New President at the Helm
In 2005, USA Gymnastics named a new president, Steve Penny. Initially hired as a marketing director, Penny eventually became an instrumental part of the US Olympic Team. However, his experience as a sports marketing expert played a crucial role in his management strategy. His goal was to bring in money for USA Gymnastics by winning gold medals at all costs.
Penny worked closely with Karolyis, often attending monthly camps to watch gymnasts perform. Penny was behind the formation of the 2012 and 2016 Olympic Gymnastics Teams. It should be noted here that Penny also knew Nassar and often praised him as a highly qualified sports medicine doctor.
Maggie Nichols: "Athlete A"
However, as Penny named the 2016 Olympic Team, one member was left off the roster entirely: Maggie Nichols. Though Nichols held several impressive titles and was expected to compete in the Games, she was conspicuously absent, not even named an alternate for the team.
Nichols is prominently featured in the Netflix Documentary Athlete A, examining the abuse scandal and its fallout. The documentary reveals that Nichols was the first athlete to file a formal complaint with USA Gymnastics regarding Larry Nassar. Nichols alleges that the abuse happened at the Karolyi Ranch during a training camp for Olympic hopefuls on the National Team. Nichols' mother eventually spoke directly with Steve Penny, who assured her that the accusations against Larry Nassar were being taken seriously and that the authorities had been notified.
However, that was not the case. An investigation into Nichols' case found that Penny did not report the abuse to the FBI or local authorities – as required by law – for a full five weeks after the initial accusation. Once the FBI had been notified, they failed to act on the allegations. There are accusations of back-door dealing between USAG and the leading FBI investigator, with some saying that the FBI's failure to act on the 2015 reports led to hundreds more cases of abuse by Nassar.
Penny was arrested in 2018 and charged with tampering with evidence, a felony that could land him in prison for up to 10 years. He pled not guilty and is still awaiting trial.
As the 2016 Olympic Trials approached, Nichols and her family heard very little about the case. And as Olympic Trials approached, it became clear that Maggie's dreams weren't going to come true.
While there is no way to prove that Nichols was left off the team solely because she reported Nassar's abuse, that's the allegation she and her family make. Not only did the organization fail to report Nassar's abuse, but they actively worked to cover it up. Then, they allegedly punished the accuser by thwarting her Olympic dream.
In 2016, the Indy Star newspaper was investigating sexual abuse and misconduct in sports. A source told the Star to look into USA Gymnastics, which, the source said, had a questionable record of reporting abuse to the proper authorities.
As the 2016 Rio Olympic Games got underway, the Indy Star published its findings ahead of a lawsuit against Nassar and USA Gymnastics. The lawsuit, filed by two victims of Nassar, alleged that USA Gymnastics was warned about Nassar's abuse but failed to report him to the proper authorities. Furthermore, the lawsuit alleges that USA Gymnastics failed to protect its athletes by allowing Nassar to continue working with the organization until his "resignation" ahead of the Rio Games.
USA Gymnastics and Steve Penny received complaints about Larry Nassar long before the article's publication. But it wasn't until the Star began investigating that the organization was forced to reckon with the accusations. Under pressure from athletes, families, and other entities, Penny finally addressed the allegations, claiming that USA Gymnastics always protects athletes and that they had properly reported Nassar to the authorities.
Then again, in a 2014 deposition, Penny testified that it was not the practice of USA Gymnastics to report abuse to the authorities immediately. In fact, Penny said, accusations of abuse were only forwarded if they were signed by the accuser, a parent, or an eyewitness. That is, anonymous complaints of sexual misconduct or other abuse were not taken seriously and weren't reported to the authorities for further investigation.
In short, USA Gymnastics made a habit of dismissing allegations, focusing instead on its ability to churn out winning athletes at all costs.
Simone Biles, Trauma, and the 2021 Olympics
The Indy Star broke the USA Gymnastics scandal wide open in 2016, bringing an incredible amount of attention to the nation's best gymnasts. Some of the biggest names in the sport came forward almost immediately, claiming they too had been abused by Nassar.
In 2018, Simone Biles acknowledged that she was among the more than 500 victims. In a letter released on her social media, Biles writes,
It is impossibly difficult to relive these experiences and it breaks my heart even more to think that as I work towards my dream of competing in Tokyo 2020, I will have to continually return to the same training facility where I was abused.
Three days after Biles' announcement, USA Gymnastics closed the Karolyi Camp, cutting ties with the iconic coaches and their program.
The time between the 2016 and 2021 Olympic Games proved difficult and transformational for USA Gymnastics and the US Olympic and Paralympic Committee. Court cases were filed against Larry Nassar, Steve Penny, and John Geddert. Investigations are ongoing, with more potential criminal charges to come.
In fact, as of this writing, Simone Biles and former Olympians Aly Raisman and Makayla Maroney, along with Maggie Nichols, recently testified in front of the US Senate Judiciary Committee. The athletes gave heartbreaking and emotional testimony about their experiences. They pointed the finger squarely at USA Gymnastics, the US Olympic and Paralympic Committee, and the FBI for its mishandling of the reports.
Biles, her voice cracking, said, "We suffered and continue to suffer because no one at FBI, USAG or the USOPC did what was necessary to protect us. We have been failed, and we deserve answers."
Maroney spoke in graphic detail about the abuse she suffered for years, saying she was molested just before competing and winning the gold medal in 2012. Maroney testified that an FBI investigator minimized her claims and falsified a report months after her interview.
Raisman testified that it took the FBI 14 months to interview her about her reported abuse, despite "multiple requests to be interviewed." Instead of taking the victims' accusation seriously, Raisman said the FBI "quietly allowed Nassar to slip out the side door."
He would go on abuse more than 100 other girls and young women before his arrest.
"It was like serving innocent children up to a pedophile on a silver platter," Raisman said.
Trauma, Abuse, and Mental Health in Sports
The Olympic Games ended weeks ago, but the saga isn't over for these survivors.
As Simone prepared for the 2020 Olympics (which were eventually postponed), the scandal was still making its way through the courts. In February 2020, USA Gymnastics proposed a settlement that would have absolved most of the leaders (including Penny and the Karolyis) from litigation. The deal would also allow USA Gymnastics to keep quiet about the abuse allegations: when they were made, who knew about them, and when and if they were reported to the authorities. The proposal was rejected by the attorney representing many of the victims.
When Biles competed at the Olympic Trials in 2021, litigation continued. And when she stepped onto that floor during the 2021 Olympics in Tokyo, the cloud of this scandal still hung thick in the air. She headed to Tokyo knowing she would compete for an organization that grossly failed to protect her or her fellow athletes.
Biles knows that when she speaks, people listen. Since coming forward as one of the survivors, she has become a vocal advocate for accountability and change within USA Gymnastics and the US Olympic Committee. Her position as the GOAT allows her to criticize the powers that be and demand action. But she is unique in this way. Prior to 2016, she was walking the same thin line as her fellow competitors: trying to stay in the good graces of USA Gymnastics, doing whatever it took to make the team and see her dream through to fruition.
Part of Biles' desire to be in the Tokyo Games came not from wanting a medal, but to keep the scandal in the spotlight. She wanted to make sure it wasn't covered up and brushed aside.
In an interview with NBC, Biles said,
I feel like gymnastics wasn't the only thing I was supposed to come back for. Because I feel like if there weren't a remaining survivor in the sport, they would've just brushed it to the side. Since I'm still here, and I have quite a social media presence and platform, they have to do something. So I feel like coming back, gymnastics just wasn't the only purpose I was supposed to do.
As she stepped into that arena, we can only imagine what was on her mind. The pressure to represent her team. The unknown of living through a pandemic, forcing her to train for an extra year ahead of competition. The pressure to be a voice for the victims and to demand accountability from USA Gymnastics. The trauma of being a survivor, yet being forced to represent an entity that neither believed her nor protected her.
Biles has become an expert at compartmentalizing the abuse, the ensuing legal process, and her athletic competition. But at the end of the day, she's human. Our bodies can only handle so much before they demand a break. It's unfortunate that her breaking point came during Olympic competition, but perhaps not surprising.
Even Biles acknowledged that the stress and trauma of the sexual abuse and the ensuing scandal likely played a role in her stepping back from competition.
Elite Athletes and Mental Health
Simone Biles wasn't the first elite athlete to experience devastating mental health challenges, and she likely won't be the last. But her willingness to accept that her brain and body weren't aligned – and then step back from the world's greatest athletic stage – put a spotlight on a conversation that has long been in the shadows.
Too often, we see elite athletes as superhuman. We mistake physical strength for mental invincibility. We place them on a pedestal, expect perfection, and then shout in disappointment when they fail to meet our lofty goals. We forget that they are just like us: they have doubts, fears, and insecurities that are magnified when they enter a world stage.
And in the case of Simone and her fellow gymnasts, we also forget that many athletes carry a lifetime of emotional baggage with them.  
Addressing Mental Health in Sports
Simone Biles' withdrawal from the Olympic Games amplified an ongoing conversation about athletes' mental health. It also continued to bring the USA Gymnastics scandal to the forefront, demanding answers from the leaders and justice for the victims.
We all have a responsibility to rewrite the script surrounding competitive sports. Athletes are human, and they need to take care of their mental health just like everyone else. Physical strength doesn't equal mental toughness. We should encourage all the athletes in our lives to protect their mental health. We should listen to survivors, demand change, and protect those who feel they have no choice but to remain silent.
---
Author's Note: To learn more about the survivors, their stories, and the ongoing fight for justice, check out the following sources: