We already know that our WodBottom customers are the most incredible people on the planet. Ours is a community of strong women – both in body and in mind. When we asked you to share your stories about your health and fitness transformations, we knew you would blow us away. And we were right.
Whether your goal is a new PR, shedding a few pounds, or simply loving the skin you're in, we see you, and we are cheering you on. We're sharing real stories from actual WodBottom community members to inspire and encourage you on your health and fitness journey.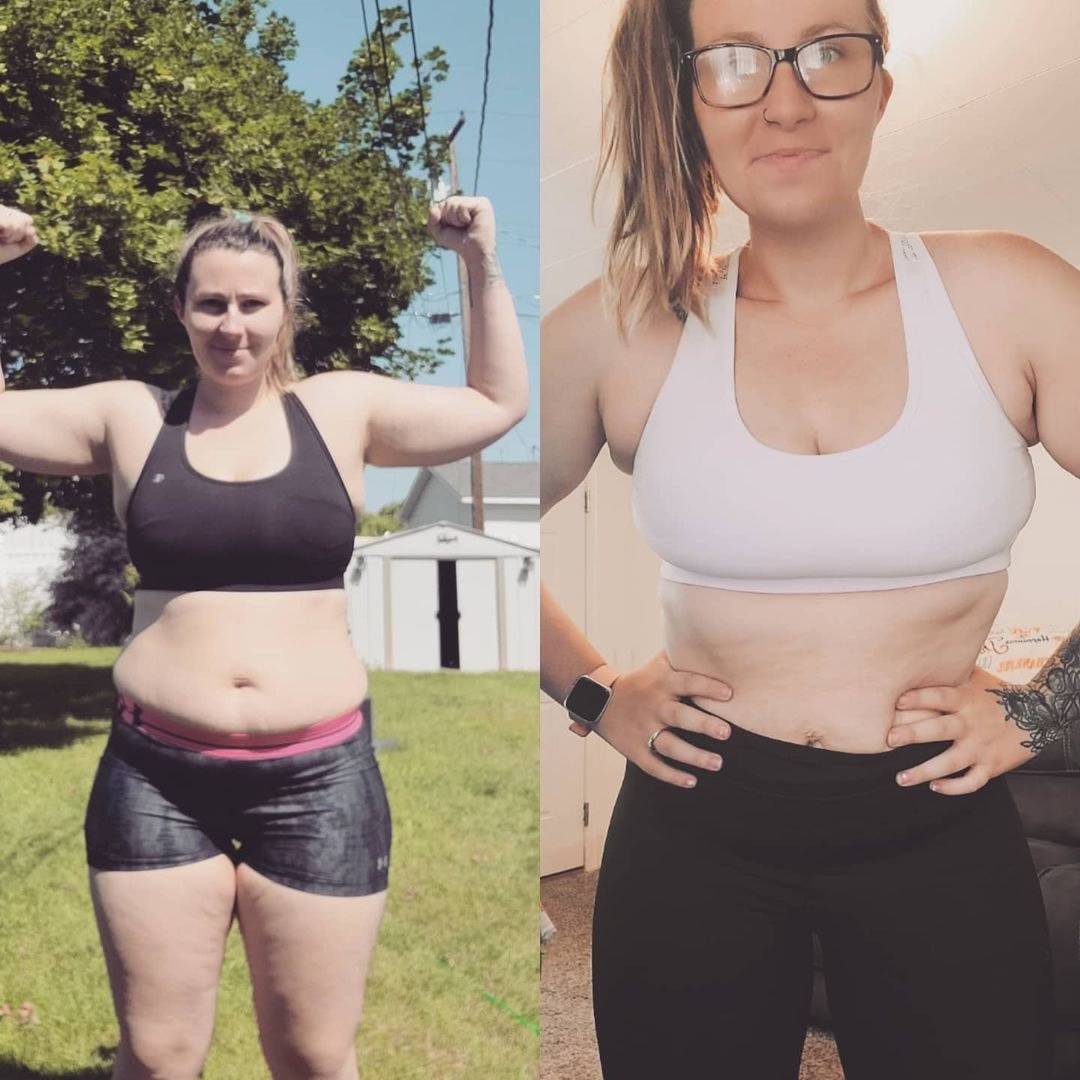 "After I had my first son, I vividly remember painting pumpkins on the floor with him. He was about five months old then. I will never forget how out of breath I was just trying to stand up from the floor."
That's when Stacy knew she needed to make a change. "I knew that he would be walking in just a few short months, and I wanted the energy to be able to keep up with him."
Stacy started her health and fitness journey from the ground floor. She knew nothing about healthy eating, macronutrients, types of fitness routines, or weightlifting. "Did I mention that empty carbs and sugar were my favorite food groups?" she jokes.
While learning about healthy nutrition, Stacy discovered a host of autoimmune diseases, along with Chiari malformation, which causes horrid migraines. "I began researching foods that would decrease inflammation and not trigger flare-ups." She also tracks macros, sticks to fiber-filled carbs, and eats lots of lean protein. But, she says, balance is key. "I always remember to keep a balance for my mental health and history of yoyo dieting by treating myself once in a while to ice cream dates with my kids."
Stacy's fitness routine was a long road. She started working out at home, then joined a gym. "The gym soon became my mental getaway where I could build muscle and run away my small problems on the treadmill."
Then, like so many of us, she discovered the barbell. "Once I learned more about how to lift weights correctly, I learned that I am exceptionally strong. Being able to lift heavier with time and hard work is now one of my favorite things."
Stacy also discovered a love of running, adding it into her routine several days a week. "Now I run outside, on the treadmill, and with my kids. The endorphins released during a good run cannot be beat, in my opinion!"
Stacy first felt her hard work paying off when she could wear what she wanted and not hide behind baggy clothing and leggings. But, she says, the biggest success was how she felt mentally and emotionally. "I knew that I was kicking butt when I was no longer faking smiles, I felt strong mentally and emotionally, and most of all, my kids commented on how happy their mom was."
When asked what advice she would give those focusing on their health and fitness, Stacy says, "Don't give up! The number on the scale does not determine the person that you are. Learn to love yourself during every stage of this journey, including the person you see in the mirror on day one. It's okay if you fall off the wagon and start your journey over again. Do all of the hard things, especially on the days that you don't want to, because I promise those are the days that you need it the most. It is going to be hard, and you are going to give up, but do NOT give up on yourself. You can do this!"
When Jacqueline's daughter turned four, Jacqueline realized she didn't have the energy or physical ability to do fun activities with her daughter. This became the inspiration for her health and fitness journey. Since finding a healthy routine, Jacqueline and her daughter now ice skate, hike, and dance together. "We are creating memories for a lifetime," she says.
Jacqueline credits her transformation to a combination of HIIT workouts, weight training, running, and a healthy vegan diet. "Strength stuff is my favorite, though! I love wearing different shorties and bras while working out; the WodBottom outfits add that extra sprinkle of motivation."
She says she measures success by the way she feels both emotionally and physically, how her clothes fit, and how much energy she has to keep up with her daughter.
Her advice to other women seeking a healthier life? "Do it on your terms, no one else's. You're beautiful how you are and for who you are and not for the number on the scale. Getting healthy is a journey that includes mental health, being active, and growing your love for yourself."
Ayla's Story
Like many women we interviewed, Ayla's inspiration came from her daughter. She had been trying to get healthy for years, but when she noticed her daughter picking up her bad habits, it was the final push she needed to get fit.
"I started CrossFit about three years ago and have lost about 90 lbs while still maintaining most of my pre-weight loss lifting numbers. The first year after I lost weight, I got 32nd place in the scaled CrossFit open. Last year I got 9th!" And, she adds, "WodBottoms are my favorite shorties to work out in!"
Outside the CrossFit Box, Ayla has found other active passions as well. "I've learned that I love hiking. Pre-weight loss I would have never attempted it, but with my weight loss and also improved cardio health, it's one of my favorite ways to connect with the earth."
Her weight loss is incredible – 90 lbs down. But while she initially measured her success by the numbers on the scale and the size of her jeans, she slowly began recognizing other milestones as well. "I discovered that because of childhood trauma, I had had a tendency to overeat and didn't even realize it. For me, healing my relationship with food and not using it as a reward or punishment has changed my life." Ayla steers clear of sugar and processed foods, focusing mainly on protein and veggies.
She says finding an activity you enjoy is the easiest way to start a fitness journey. "That way, working out doesn't feel like a chore. Fad diets are short-term. Consistency is your best friend!"
Elizabeth's journey was about self-love. "I felt uncomfortable in my body, was unhappy, and had low energy. It was time for me to change, and it wasn't solely based on looks or a number on the scale," she says.
She started with unhealthy eating habits but gradually embraced healthy nutrition. "My [initial] goal was to eat the least amount of food I could without getting hangry. My goal was to be as small as I could be. Now, I realize food is fuel and is key to workouts. I currently shoot for 800 grams of fruits and veggies, a goal of 140 grams of protein, and minimize processed food."
As for getting active, Elizabeth admits it's been quite a journey. "Starting from the couch, to running, to at-home workouts, I have found my home with CrossFit! I have been doing it for three years." She also says she enjoys hiking on her active recovery days.
Success, she says, isn't about a number on the scale. "Success to me is confidence in the skin I am in, the energy and ability to do activities I enjoy, and flexibility to enjoy foods I love from time to time."
When asked what encouragement she would share with other women, Elizabeth says, "It doesn't change overnight. Consistency is key, and while extremes may give you results, it's not sustainable. Try new things, but do what works for you!"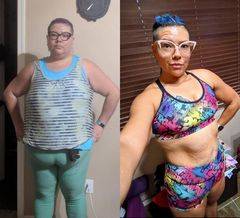 "I decided to commit to my health in May of 2018 when I lost a friend who was my age and had no health risks besides being overweight and having a job that required her to sit for hours at a time. She passed away from a blood clot. It was my wakeup call as a Type 1 Diabetic [who was also overweight]."
Being a Type 1 Diabetic meant Adrienne had to carefully consider how to change her eating habits. "I decided to start making small, dietary changes that would be permanent and healthy for a person with Type 1 Diabetes like myself. I started adding low-starch veggies and fruits and switching over to whole wheat and whole-grain foods. My daily diet now consists of all that, and I avoid extra salt and sugar. I drink plenty of water and try to avoid processed foods, junk foods, and eating out." She also discovered a love for cooking and found new spices she loves to use.
Her workouts consist of three to six days of training per week. She combines HIIT workouts, cardio, and metabolic conditioning. "I am always lifting weights and doing bodyweight exercises and plyometrics," says Adrienne. "WodBottom shorties are a perfect mix of comfort and support for many of my activities!"
When asked how she defines success, Adrienne says it's about feeling confident when looking in the mirror or feeling strong after a great workout. "Success is not giving up. Success is being better than you were yesterday, or learning from a mistake, or picking yourself up after a bad day."
Adrienne's advice? "Listen to your body, mind, and heart, but always speak positive words to yourself. Always tell yourself that you can do it. And remember that each journey is different and unique. Don't compare yourself to anyone except the woman you were yesterday."
Claudia Alexandria's Story
"Ten years ago, I injured my back during a martial arts class and was not able to walk for over 13 months. [I] was told I'd probably never be able to run or jump again."
Growing up between Italy and Argentina, Claudia Alexandria loved healthy, homemade foods. But her injury, combined with the stress of purchasing a home, long work hours, and going back to school meant her eating habits shifted – and not in a good way. "I would snack on what I could find at lunch trucks or from vending machines, skip meals or have whole pizzas, share entire pies with my husband, and order from whatever was the fastest place to deliver at the odd hours I craved a sugar fix."
Two years into eating whatever she could find, she and her husband were feeling the effects. "[We] were six sizes bigger than we had ever been between the two of us, with no energy and feeling very uncomfortable and unhealthy." She didn't recognize herself in photos. None of her clothes fit.
That's when a friend told Claudia Alexandria about Keto. "I decided to cut back on processed foods, soda, and simple carbs and re-introduced the natural, tasty and nutritious dishes and ingredients I had loved my whole life."
After working hard at physical therapy, Claudia Alexandria soon returned to the physical activities she loved before her injury. She loves yoga, bodybuilding, powerlifting, CrossFit, and Brazilian Jiu-Jitsu. And, she says, her WodBottom gear adds to the experience. "I'm almost 37, but I love dressing up in flattering and fun clothes that show off the results of my hard work and that are designed to be gym appropriate."
She wants other women to know that perfection isn't the goal. "There may be days that are more productive or successful than others and times when life gets in the way. Success has to do with discipline and self-awareness, but also self-love."
When did Claudia Alexandria feel she had reached her health and fitness goals?
"One day, I tried running again, and I could. It was such a simple yet intense moment! I've got my brown belt in Brazilian Jiu-Jitsu and have discovered that I have a passion for photography, power tools and can do anything I set my mind to. It's a constant journey, and I am always moving and growing, but I would not want it any other way."
We are so honored to have you in the WodBottom community, and we love hearing your stories of transformation!