Customer Reviews
Write a Review
Ask a Question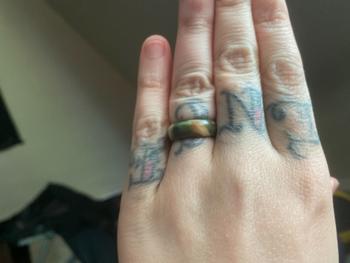 06/27/2021
Camouflage ring!
So cute and practical! This was a little simple ring I thought I'd treat myself to since it was affordable and on sale and I can't normally wear my real ring at work. It's perfect and super comfy and I'm so glad I grabbed it.
Claudia S.

United States
Yay!! We are so happy to hear you love the fit, feel, and fun design of your your ring!
01/31/2021
Great rings
Love these rings! They fit well and are incredibly durable. I have several.
Jenny W.

United States
12/22/2020
Love it!
Great fit. Love the pattern
Stefany K.

United States
07/07/2020
Love the Camo Ring
Love my new ring. I hate having to take my wedding ring off when I lift so this is perfect. It's comfortable doesn't bother with my grip on the bar either. My hubby wants one now too.
Thank you so much for the kind words!! We LOVE that you LOVE the fit and feel of our silicone ring. ❤️
06/16/2020
Great Purchase!
I bought these camo silicone rings for my two sons, they were stoked! They look amazing and are standing the test of hunting, fishing, wrestling, all things outdoor little boys! I have loved them so much that I've made a second purchase for myself!
04/25/2020
Camo Ring
So this is my second ring purchase. First time I purchased a sz 6, my actual size. Wore it almost everyday and to numerous Spartan races. Didn't bother me at all but it stretched a bit and eventually fell off. I purchased a sz smaller this time in hopes even if it stretches that I don't lose it. So comfy though. Love it!!❤❤❤
10/09/2019
Great Ring!
I bought this to replace my thumb ring as it was getting mutilated by the bar. This works and sits on my thumb perfectly. Moves with me when I lift and hang.
12/11/2017
Silcone rings
Look great and very comfortable to wear.
08/13/2017
Awesome ring!
Awesome camo pattern. Nice, thick ring. Great quality!