Scary Booty 3.25" Shorties
Scary Booty 3.25" Shorties
Product Description
DETAILS

SHIPPING

OUR PROMISE
Description
Who's ready for Halloween? These shorties' 87% polyester/13% Supplex blend will stretch while staying where it should. Supplex is a special fabric blend designed to wick moisture and dry faster than cotton, which means you can say goodbye to sweat stains! Bonus: these shorties' longer 3.25-inch inseam will prevent wedgies and keep you covered. (Because slippages are NOT the kind of scare we like.)

3.25" Inseam
Big ghosts are GLOW IN THE DARK!  #extra
Single Lined
Lined Square Gusset = No Camel Toe
80% Polyester /

 

20% Supplex
Non-See Through & Totally Squat Proof
Super Soft

Fit has been perfected to accommodate the the butt and thighs of a strong woman
PRE-ORDER
This item is a pre-order item and will ship on or around July 27th.

As a small business with big dreams, pre-orders let us release new shorties more often, which in turn, let us grow!

We know in a world of instant gratification, waiting for your purchase is a pain. We also know once you have it in hand, you will love it so much and totally love your participation in helping a passionate group of people design beautiful and punny shorts.
SHIPPING
Please allow 3-5 days for your domestic order to arrive. We try to ship within one day out of our Verona, Wisconsin warehouse. Yay! The midwest...so convenient.
Returns and Exchanges are easy, simply make request for a return or exchange online, receive your return label, and send your item to our returns center for fast processing. We'll get you a replacement or refund in a snap!
OUR PROMISE
There is nothing more important to us than our customers being happy with their purchase.

Our happiness promise means if you've got issues, we are going to solve them. If after you get your goodies and you aren't completely happy, just send us an email at support@wodbottom.com or head over to our Exchange and Return Portal to swap sizes, items, etc.
Customer Reviews
Write a Review
Ask a Question
Filter Reviews:
dark
ghosts
pairs
print
cuties
pocket
phone
2020
statement
seams
10/23/2020
Spooky Booty
These are so cute! Getting a lot of compliments on them at the gym. Love that the ghosts glow in the dark. The fit is great and feel super comfey
Jennaka
United States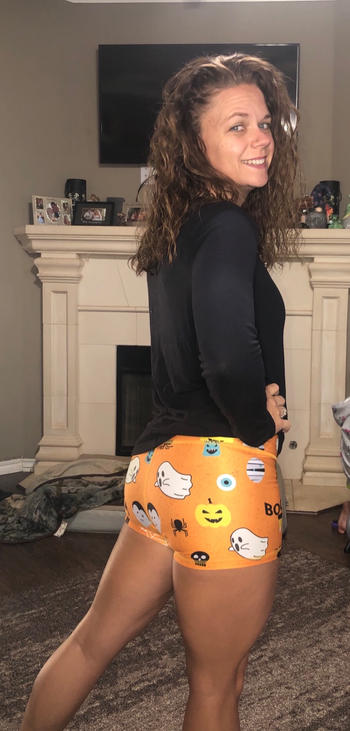 10/17/2020
BOO-tiful!!
i am IN LOVE with these!!! my kids love the glow in the dark ghosts, i love the fit and the fabric is super soft!! fit very true to aize!
kayla
United States
10/17/2020
LOVE
Ordered these. Own numerous pairs and am never disappointed!!!!
Stephanie B.
United States
10/15/2020
Boooooootyful
I love these shorts they make such a statement. They are super comfortable, and the little ghost glow in the dark. The mock up doesn't show it, but it also has a cute little wodbottom jackolatern symbol on the back. (Presh)
May B.
United States
10/15/2020
IN LOVE
This is like my 15th pair of WODBottom shorties and they just keep getting better. I didn't even realize the ghosts glow, so my spooky soul is so happy right now.
Tess V.
United States
10/08/2020
Glow
Omg these ones r amazing!!! Love they glow in the dark!! Fit great!!
Cindy W.
United States
10/08/2020
Scary Booty
This pattern is the best. I loved how none of the images got cut off or distorted when the seams were sewn together. I LOVE these shorties so much.
Karen A.
United States
09/24/2020
Obsessed!!
These are the cuties!! Can't wait to wear them in the dark, the ghosts glow!!!
Nohailani D.
United States
09/24/2020
Halloween shorties
I love the print. Love how it says Halloween 2020 inside. They seem a little tighter and seemed to roll a bit on me. Wish they would have come in the 5 inch, but overall great quality and design!
Jeannie L.
United States
09/24/2020
Little pocket?!!!!
Omg so amazing I did leg day with these and I did not pull them down once only thing I wish they had was a little pocket for a key or a phone That would be freaking amazing!!!
Kristen R.
United States